This winter was one of the coldest in recorded weather history for our zone 6 region. With snow events continuing into late March, a full month later than the brutal winter prior, extreme low temperatures left heavy damage in many landscapes….and many homeowners (and contractors) distraught over the losses.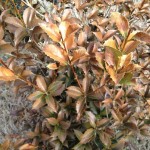 Broadleaf evergreens suffered most. Their fleshy leaves, exposed to the unusually late cold and ice, burned just like food left too long in the freezer. "Freezer burn" caused leaves to completely die, or to have brown sections of unsightly damage.
Every winter we expect some winter damage, but this spring, it's the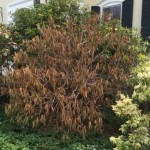 extent of the damage that is so hard to fathom. Plants like laurels (prunus laurocerasus) considered 'marginally' hardy for zone 6, suffered the most. However, many fully hardy geneses such as holly and rhododendron, suffered equally, if not more. Fully hardy in our zone 6, they form the backbone of many winter landscapes.
Flowering trees also took a hit. Many crape myrtles, a particular favorite that we have become accustomed to planting liberally, died completely. Although they can regenerate from their roots, it hardly seems worth the wait. Very established specimens as well as newbies didn't make it, so age did not offer protection. Ones that survived may have had a slight positioning benefit that shielded them from the worst winds and exposure.
The good news is that a lot of this damage will regenerate on its own. Most laurels and hollies are slowly pushing new growth now. Your patience will be rewarded as many shrubs and trees return to fullness within the season. Most dead leaves drop on their own, but you can go ahead and cut them off if you don't want to wait. Cut back to live wood to encourage new growth.
Plants, of course, can also be replaced. The question is: replace with the same, or go for something hardier? I am an eternal optimist. I also want to plant what I want to plant. I love laurels and I am willing to live with their imperfect winter performance, but maybe you're not so it's time to consider something new.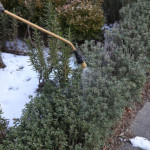 Steps can also be taken in the fall to protect broadleaf evergreens: anti-desiccant treatments and burlap wraps may be the difference between life and death in an extreme winter. Less hardy varieties can also be planted in locations with more screening from harsh winter winds, or protected areas near walls, fences or other larger planting screens.
No one can predict next year's weather except to say that it will be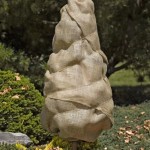 unpredictable. Regardless of what side of the climate change argument you fall on, recent winters have been undeniably brutal. And by the way, in case you were wondering about that plant warranty, landscape designers and contractors are not in control of extreme winter weather!