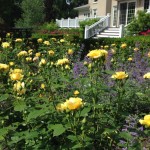 Despite that wise old advice, there seems to be too little time as we rush through our work and personal lives to 'stop and smell the roses'. Given my line of work, it's especially ironic that I forget constantly. This summer, with plentiful rains following an early spring drought, flowers seemed to pop all at once – and many of them roses.

One of my favorite showcase jobs planted three years ago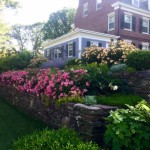 literally stopped me as I was driving. I pulled over to take photos of a full on explosion of color – mostly from a new series called Drift roses: Peach Drift, Coral Drift, Apricot Drift, Pink Drift, Sweet Drift etc. These repeat flowering low shrubs offer prolific non-stop color and a handsome compact habit that make them easy and fun to mix with other perennials. Though not fragrant, they make up for that with their big late spring into summer show.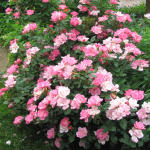 Knockout roses have taken the market by storm for their ease of care and performance. Aptly named, they flower non-stop from June through the fall. Go into any garden center and you'll find them in abundance. Reaching to 4' x 4' they come in a variety of colors, both in single and double shapes.

If you really want to SMELL roses, however, you have to go to David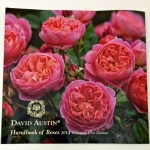 Austin, my favorite breeder. Austin has perfected the best of all rose possibilities by hybridizing old fashioned types with newer repeat-flowering varieties. His magnificent cultivars combine the perfection of form and fragrance of old roses, with the repeat flowering and disease resistance of newer varieties. Romantically named after English authors and literary references, they delight all the senses with names like 'Jane Austen' or 'Jude the Obscure'. A look through his catalog (davidaustin.com), is like going through a candy store. You're not sure which one will be more delicious.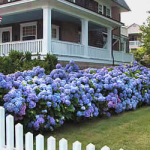 Roses peak in June, but let's not forget that other big summer show off – the hydrangea that takes us well into the later months. Last year the most common garden complaint was about non-flowering. The harsh winter of 2013 caused complete die back to root systems. Winter 2014, though harsh again, caused less damage, and this year there is excellent flower production on old and new wood. Look for standard mopheads like the popular 'Endless Summer' series, more subtle lacecaps (hydrangea macrophylla varieties), oak leaf types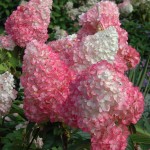 (hydrangea quercifolia varieties), plus the fantastic new upright panicles (hydrangea paniculata varieties) that have been hybridized to include many new cultivars. Ones that mix and change color from white to pink like 'Fire & Ice' or 'Vanilla Strawberry' are newest – their names allude to what's going on with these exciting new cultivars.
Remember: Take the time now to appreciate summer flowers! The moment is fleeting – so stop to smell, admire and breathe in all that beauty we wait the rest of the year to enjoy.
Contact Mierop Design for any of your landscape design, construction or horticultural and garden maintenance needs.