I recently married the man with whom I share my life and landscape business, so the idea of discussing great garden 'couples'  felt like a natural. Frank and I share a love and appreciation of beautiful gardens and landscapes and we work well in tandem.  While what we do overlaps, much of it does not. We bring unique skills and perspective to each project, and produce a better product together than apart.  You could say the same about ideal plant companions.  They may share light and horticultural needs, but must be distinct enough in shape, texture and color so that their contrasts complement one another, creating a sum greater than the parts.
ROSES AND CATMINT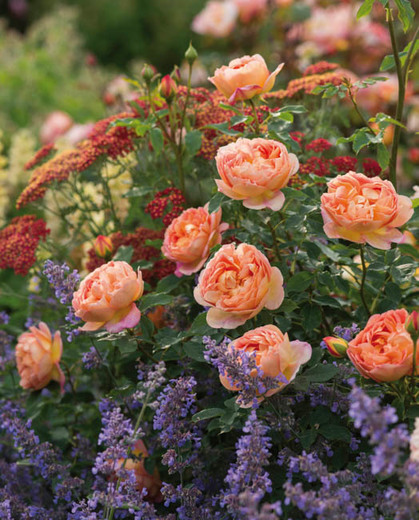 One of the most classic combinations is roses and catmint (nepeta varieties). Rose flowers are exquisite, but the plant form itself can often be leggy and unattractive. Some of the newer varieties have fuller shrub forms which work well alone, however it's often the case that the stick-like legs of the rose are best disguised by a fluffy partner. Catmint fits the bill perfectly. Full, airy, soft and profusely generous in flower production, catmint varieties are perfect for roses, hiding their bare legs and offering a contrasting color and flower form. One of my favorite combinations is the yellow rose 'Julia Child' along with nepeta 'Walker's Low'. But don't stop there. The blues of catmint combine well with peach, pink, red and even white roses. You really can't go wrong. Both plants like well-drained soil and full sun. Roses need more fertilization than the catmint, but as roses often are fed separately I have never found this to be a problem.
BOXWOODS AND HYDRANGEA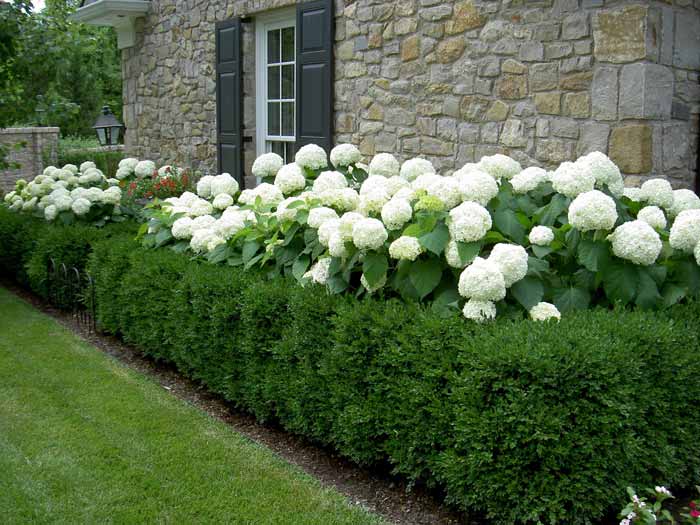 For sun, part sun and part shade areas, nothing is more classic and elegant than boxwood and hydrangea. The translation for certain boxwoods names (i.e., buxus microphylla) means 'little leaf'. The translation for hydrangea macrophylla (the mophead types) is 'big leaf'. The little evergreen leaves of boxwood provide a perfect foil for big hydrangea leaves, plus their forms nicely contrast stricter formal boxwood shapes with blousy and informal hydrangeas. As an evergreen, boxwood also pairs with hydrangea much the same as catmint/rose combinations – by hiding the legginess of the bare stalks in winter when the boxwood fronts the hydrangea.  I also like mixing larger boxwoods in the background with smaller hydrangeas: tall American boxwoods marry nicely with some of the smaller dwarf hydrangeas, while shorter Koreans and English boxwood hedges contrast well with taller mop heads, panicles and oak leaf varieties.
DAISIES AND RUSSIAN SAGE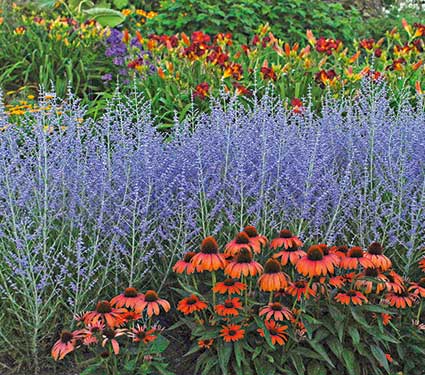 For perennial combinations and late summer color in full on sun, one of my favorites mixes is the wispy, see-through quality of Russian sage against the study color blocks of leucanthemum (daisy), rudbeckia (black eyed-susan) or echinaceas (cone flower)……all 'daisy' type flowers. These late season partners pack a lot of drama in color and textural contrasts. Preferring full hot sun, little fertilization and great drainage, these are unfussy couples that put on a long show. The delicate pastel lavender of the Russian sage also plays beautifully off all the saturated daisy colors : orange, peach, red and white.
SHADE GARDENS: ASTILBE AND HAKONE GRASS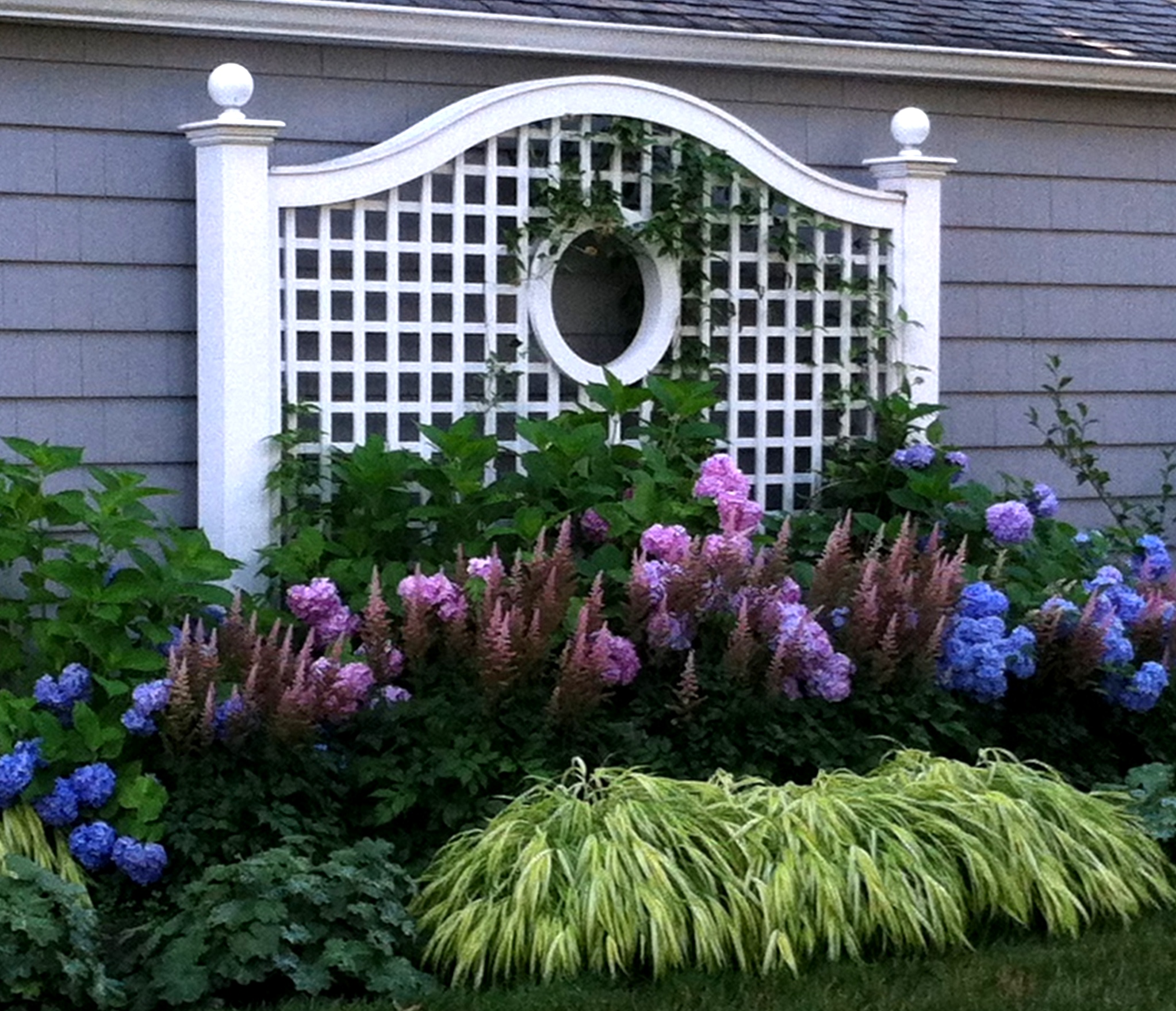 Shady areas always bring more challenges as there are fewer plants to choose from. Yellow hakone grass (hakonechloa macra 'Aureola') is one of my preferred selections for its pop of yellow in the shade. It is also one of the few grasses that tolerates shade. Add to its already stellar selling points with a great astilbe and the overall effect gets punched up. Astilbe are available in many heights and colors.  I am very fond of astilbe 'Visions' for its short and plump purple flower stems. It's a knockout combination with the yellow hakone grass.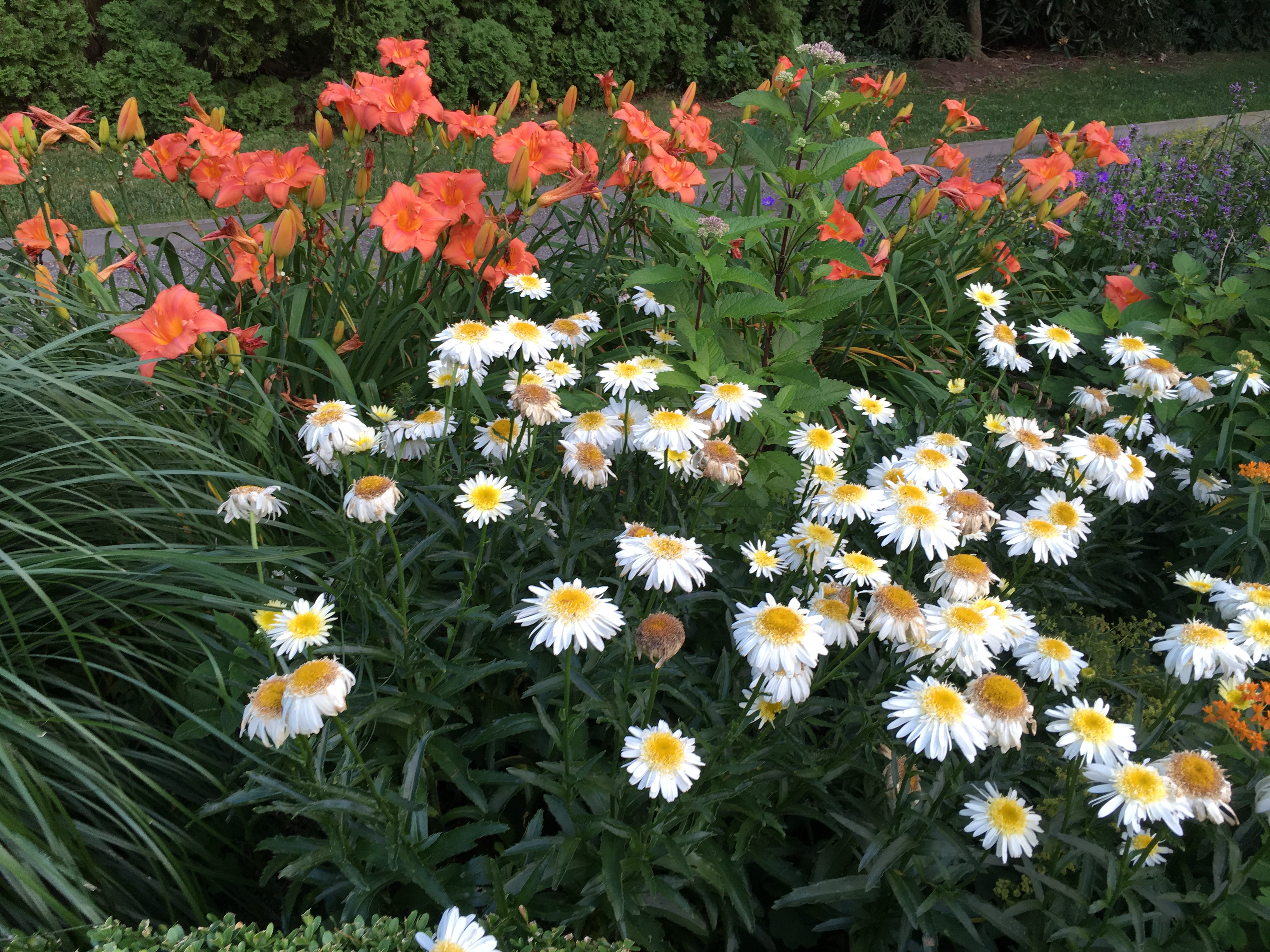 For any of these pairings, remember to consider light, soil conditions and moisture needs first, and make sure the plants are in compatible garden areas. Many of my earlier gardening mistakes involved putting plants together that didn't share the same horticultural needs. Secondly, consider texture – big versus small leaves, or an upright versus a weeping or mounded form draw the eye and make these pairings more interesting. Lastly, consider color using the color wheel. Opposites do attract, so cools like blues and purples are always a sure bet against warm yellows, peaches and oranges. Regarding texture and color, however, as with much written on gardening etiquette, beauty is in the eye of the beholder – so feel free to experiment and break rules when the fancy strikes.
The Suburban Lot is a monthly blog that highlights topics and issues unique to the suburban landscape.  For assistance with any of the above information, please contact Mierop Design, a complete resource for landscape design, installation and property maintenance services.