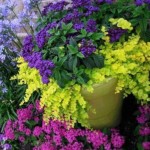 One of the great pleasures of the summer garden are big displays of annual and tropical plants in containers. It's an oxymoron: 'big' plus 'contained' – and that's part of the power of these important components within the landscape.
Beautiful when they are first installed in mid-May, just past fear of frosty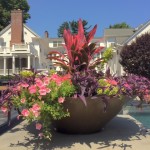 night destruction, tropicals (plants not winter hardy in our zone 6 climate) take a short while to fill out and come into their own. By July/August and beyond, container plantings peak in beauty. Voluptuous and showy, they are garden dessert – a sweet treat on top of an already full plate of peak summer perennials and shrubs. Their non-stop flowering potential makes them invaluable in summer landscapes which often hit a color lull as temperatures rise.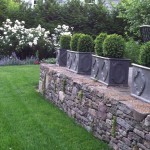 In addition to the vast tropical palette of exotic plants, containers themselves offer their own world of decorative delight. There are abundant choices in every style, taste: from traditional terracotta, wood, limestone and cast iron, to a brave new world of resins and reproductions that winter our weather extremes, are lightweight, easy to move around, and are often reasonably priced. Finishing techniques have become so sophisticated that it can take close examination and a 'tap' test, to separate real from mimic.
There are styles and sizes to suit every taste and space requirement.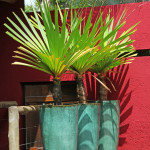 Streamlined bold geometrics are popular now and look newest in bold colors that play off plant palettes.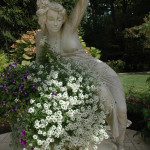 Container versatility also crosses from merely aesthetic to functional. A well-sited container can draw the eye along a deliberate axis, disguise an ugly utility, serve as a safety barrier or enclose a space. In winter months, they house evergreens and add visual play to otherwise bleak landscapes.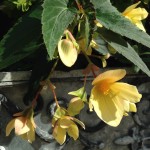 A big gift in a small package, containers offers both high returns and low risk on your time and dollar investment. So go crazy with colors. Mix bold centerpieces with fillers and spillers. Combine different sizes in a still life of shapes on your deck or patio. You can always change things up next time around!
For assistance with any of your container or annual installations please contact Mierop Design. Mieropdesign.com