HAVE A VERY BERRY CHRISTMAS
Even though I was tempted to do a Grinchy repeat of my last year's observations on ugly holiday decor, I'm going high and talking about plants, my favorite topic.
Winter can be challenging for the garden. No flowers, dead leaves, naked branches and soooo cold. But, there are ways to make the winter garden interesting, and planting beautiful berried shrubs or trees is at the top of that list.
Massed or as single specimens, berried plants add needed color to the monochromes of winter. Aside from providing visual relief, berries feed the birds, create great winter views from interior spaces, as well as providing useful materials for holiday decorations. Many of these are Native Plants indigenous to our region, so are naturally adapted for winter survival. Finally berry 'sets' as they are called, typically last for months – far longer than flowering performances. Here are a few standouts to consider: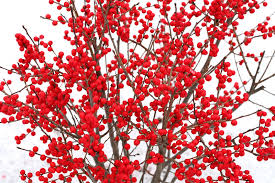 WINTERBERRY
Ilex verticillata or winterberries are technically hollies, but they bear little resemblance to their prickly cousins. They are good looking, tall shrubs that are beloved for their profusion of red berries in winter. They are probably the showiest of all winter berry shrubs, and are especially magical when contrasted against the dazzling whites of a big snowfall.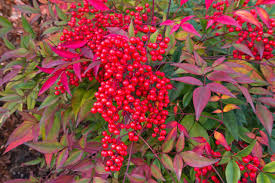 NANDINA
Nandina domestica, or heavenly bamboo, is one of my favorites. Not to be confused with real bamboo, they have an exotic, tropical feel that is lacy and delicate. They are heavily used in southern zones which is their normal habitat, but as our climate warms they have become more common here. Some varieties, like Firepower, have foliage that turns bright red but in this case, no berries! Can't have both! Nandinas only downside is that they can defoliate in bad winters, but they do generally recover very well and are worth considering.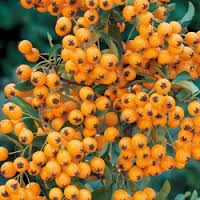 PYRACANTHA
Pyracantha varieties, firethorns, are not the most attractive of shrubs having a somewhat floppy awkward form with indistinct leaves.  However, when sited flat against a wall as climbing vine, they show their superpowers and are spectacular for a late show of red, orange or yellow berries. Especially if placed against a light colored wall or background, firethorns can brighten the fall/winter landscape with unexpected color. Beware – they do actually have thorns, but nothing your average gardener can't handle.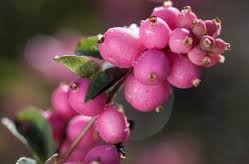 CORALBERRY
The first time I saw a coralberry (symhporicarpos obiculatus) was at The New York Botanical Garden in fall. It had an imposing form and was spectacular for its masses of large, lavender berries.  Similar in color to beautyberry (callicarpa varieties), another great fall berried shrub, I was stunned by the profusion, size and color density of the berries. Coralberries come in several colors including red and white plus lavender. Other common names like snowberry, waxberry or ghostberry make this genus somewhat confusing, but any which way they are beautiful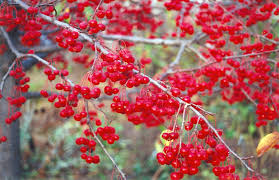 CRAB APPLE
Moving over to trees, crab apples (malus varieties) are at the top of the list. Crabs, beloved for their compact form and good spring flower shows, don't stop there. Fall brings fantastic berry sets in assorted colors. Nothing like true year round interest! My favorite variety, Sugar Thyme, is noted for its strong red berry set,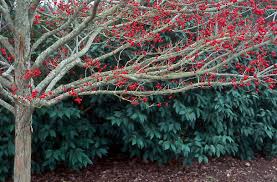 WINTER KING HAWTHORNE
The name says it all. A little used medium size tree, Winter King hawthorns (which like pyracanthas do have thorns) are standouts in the winter landscape. They offer a lovely spring show of delicate white flowers and have interesting silvery, exfoliating bark to boot. Years ago I planted an allee of them all along the road bordering an Essex Fells property, and it has stood the test of time. Four season interest keeps this tree variety at the top of my list for exceptional specimens.
The Suburban Lot is a monthly blog that highlights topics and issues unique to the suburban landscape.  For assistance with any of the above information, please contact Mierop Design, a complete resource for landscape design, installation and property maintenance services.